Sundarban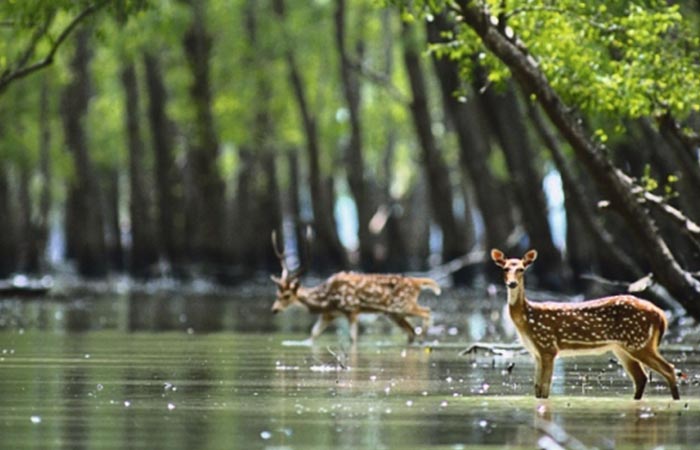 Located in the extreme southern part of West Bengal near Bangladesh border is a natural region called Sundarban. Most of the portion of Sundarban is located in the Bangladesh. It is the part of world largest delta formed by the sacred river Ganga, Brahmaputra and Meghna. Sundarban has derived its name from a Mangrove known as Sundari. Listed under the World Heritage Site by UNESCO, Sundarban National Park is a National Park, Tiger Reserve, and Biosphere Reserve.
Bestowed with a unique ecology, Sundarban has become the hub of naturalist and adventurer. Declared as a National Park in May 1984 Sundarban forms the largest Tiger Reserve and National Park in India. According to the recent count Sundarban has 103 tigers. Sprawled with the world largest Mangrove forest, Sundarban is famous for its man eating tigers. Boating safari has become the major attraction of Sundarban. The water bodies of Sundarban are known for being the home of Lake Dolphin, salt water crocodile, large tooth sawfish, and mudskipper. Apart from Tiger Reserve, Sundarban has a crocodile sanctuary. Bhagabatpur Crocodile Project is a hatchery and a sanctuary to the biggest estuarine crocodiles or salt water crocodiles. Situated in the confluence of river Malta and Gumdi is Sajnekhali Bird Sanctuary. Housing more than 260 species of birds like black-tailed godwit, curlew, eastern knot, himprel, little stint, sandpiper, golden plover, pintail, whistling teal and white-eyed pochard Sajnekhali Bird Sanctuary has become the birding paradise for avid bird watcher.
Far from the rambunctious city noise where the only sound you hear is of the chirping of exotic birds and gurgling of meandering river stream. Sundarban with its unique mangrove forest has become a must visit destination for nature lovers and for those who wants to escape from the mundane city life.
Best time to visit Sundarban
Being situated in the lowland area the best time to relish the true beauty of Siliguri is during the onset of winter season (mid November to mid February), when the weather is soothing and less humid.
How to reach Sundarban
Being surrounded with mangrove forest Sundarban National Park is not easily accessible. To reach Sundarban National park the nearest airport is in Kolkata, the nearest railway station is Canning, and the nearest town is Gosaba. From the park headquarters at Canning it takes the 5hrs to reach Sajnekhali.